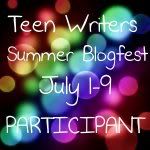 Brittney over at
Hills and Corkscrews
is hosting this amazing blogfest just for teen writers!
Today we are introducing ourselves, just in case you haven't been following us. Which I know you totally have because, seriously, who wouldn't be? /end ego trip.
Hi, I'm Taryn :) I love books and working out. Both of those are very broad categories, so let me narrow it down a little. Things I do:
writing
swimming
lit agency interning (sorry, this is secret. like, SEKRIT.)
I'm majoring in English+Creative writing with the hope to someday be a lit agent or editor and writer. Think Mandy Hubbard or David Levithan.
Right now I'm basically finished querying a YA suspense SPLASHBACK, busy revising a YA speculative fiction PLAYING GOD, and about to draft two novels back to back (aiming for a July word count of 120,000) entitled SPOT ME (YA contemp) and HOLD UP (YA thriller).
Yeah, I do a lot.